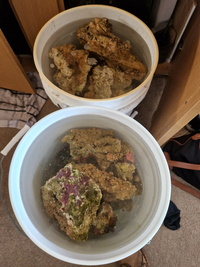 Description: 2x Tropic Marin 26kg buckets of live rock (must be 30kg+). My tank has recently split a seam and I am having to lose my stock. I can't sell it as cured as it has been in a cold unfiltered sump for a couple of days. Some interesting shapes, you can see the shapes made when the system was new 10 years ago, plus there were some pieces in the sump too. In buckets ready to take away as soon as possible.

Collection from Sandy, £30.

Contact Information
Advertiser: Mark
Telephone: 01767 769494
Town: Sandy
County: Bedfordshire
Map Link: https://www.bing.com/maps?FORM=LGCYVD&cp ...

---