Reef-Beam 120 Watt LED pendant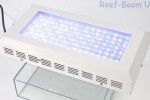 The specs for this light are as follows:
Input voltage: AC230V
Power: 120W
LED Qty: 119 (1Watt LED)
Colour: White/Blue (W:71/ B:48)
Kelvin/Wavelength: White:14000K Blue: 460nm
IP: IP50
Working environmental Temperature: -20~+50degrees
Dimension: 400mm x 213mm x 71mm.
Weight: 4.5kg (Nett)
LED Life time: 50000 hours.
Par Reading:
2" Depth: 1537 Par
12" Depth:423 Par
24"Depth: 182 Par
Join the revolution and light up with LEDS.
Cost:
£379.00
---
Reef-Beam 50 watt LED pendant

The specs for the 50 watt Reef-Beam
Model RB50

Input Voltage: AC230V
Power: 50W
LED Qty: 45 (1Watt LED)
Colour: White/Blue (W:27/B:17)
Kelvin/Wavelength: W:14000K B:460nm
IP: IP50
Working environmental temperature: -20~+50degrees
Dimensions: 400mm x 213mm x 71mm
Weight: 4.5kg (Nett)
LED Life time: 50000 hours
Par Reading:
2" Depth: 360 Par
12" Depth: 137 Par
24" Depth: 68 Par

Cost:
£259.00
---