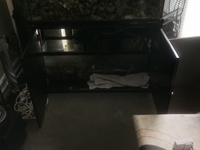 Description: This tank has been used for a few years no leaks in the system which hold 560L according to Aqua Medic the doors need rehanging and probably a new base if you wanted to use it in a living area.

According to Aqua Medic

TANK MESURMENTS 164CM X 63CM X 76CM H

WATER VOLUME 530L

STAND MESURMENTS 167CM X 64CM X 77CM H

SUMP MESURMENTS 95CM X 36CM X 35CM H

So requires a little TLC it's 15mm glass so heavy so bring 4 people (I can't lift sorry) a woman and her boyfriend lifted it in but I'd suggest bringing 4 people.

Plus you get 4x57cm D Sunny LED panels all mounted on a bar complete with a hanging wire kit. Complete with on tank controller system.

Plus you get an old skimmer its a Red Sea but it's very effective but not fancy-looking but it's in the large sump so why worry about what it looks like? In addition, you get a Phosphate Reactor (D and D) You get all the plumbing built-in and a powerful sump pump.

You get two S1 Wireless Controllers and one Jebao RW15 Wavemaker.

Also, you get 2 TUNZE wavemakers

Plus you get around 90kg of live rock which at even £4 per kilo is £380 usually

you can have the lot for £500 (no offers sold as seen)

Contact Information
Advertiser: Graham Waite
Telephone: 07511263290
Town: Peterborough
County: Cambridgeshire
Map Link: https://www.bing.com/maps?osid=e21c5ff8- ...

---