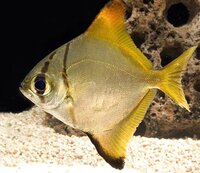 Description: Got a superb shoal of 5 adult (4 inch) monos for sale, low cost, to a new home.
These have been full saltwater for 8 months, but as you may be aware, they can live in fresh, brackish or salt.
A great tank filler. Not fussy eaters.
Look like a gorgeous shoal of silver dollars. Stunning.
£20 is fine for the shoal.


---
Contact Information
Advertiser: Tony
Telephone: 01278 325570
Town: Bridgwater
County: Somerset

---