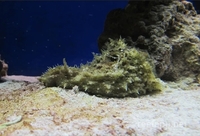 Description: I am selling a large Dolabella Sea hare approximately 5 inches.

It will clear up any algae in your tank, it is literally a living lawn mower. Don't waste your money on snails, urchins or crabs. This guy will clean your tank in days.

I am selling him for £40, but if you want to bring him back after he has done the job I will give you £20 back and can be used to help another hobbyist.

Collection only from North London.


---
Contact Information
Advertiser: Nick
Telephone: 07714669959
Town: London

---